OK, so this is all equipment that has been donated to LSMAC for fundraising - anything purchased here goes into the club funds to pay for things like speakers. I don't intend to bring any of these to the swap unless it is SPOKEN FOR, so if anything interests you, please speak up, email me directly, and let me know ASAP! PLEASE watch this thread as I may add more items to it if time permits.
#1. a 48" VHO reflector retrofit reflector, endcaps and 2 sets of used bulbs
(8 in total) that probably still have some life left in them. You'll need a ballast to run this setup. After crunching some numbers, I figure this is about $80 worth of equipment new (reflector and endcaps) since we don't know how good the bulbs are -
$40 for the setup.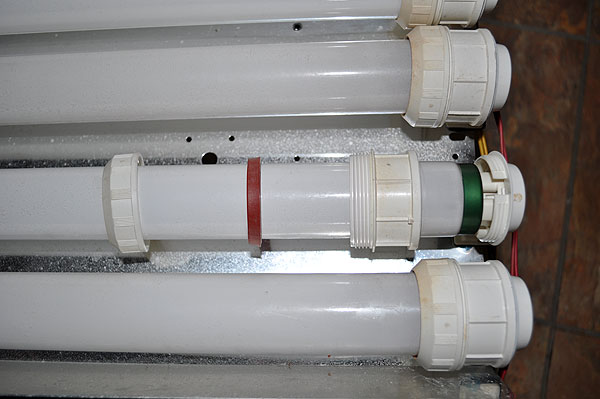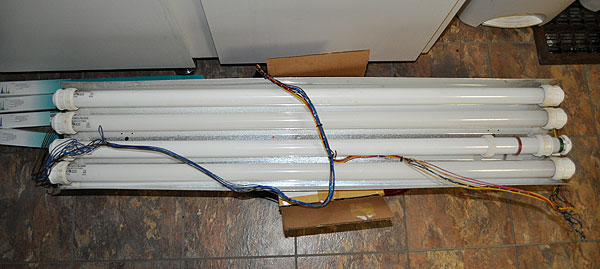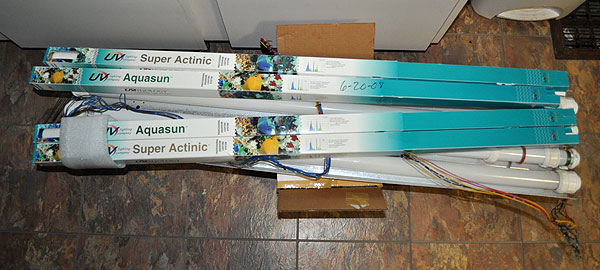 #2 - Likely BRAND NEW - Full Blown Wet Dry + Skimmer Box + Protein Skimmer - Aqua Clear Aquatics Pro Series 75 Filtration System
COMPLETE - $150
(retails new on Amazon for $238 + shipping) - http://www.amazon.com/ProClear-Aquatics-Pro-Filter-Prefilter/dp/B000JLG9H8/ref=sr_1_cc_1?s=home-garden&ie=UTF8&qid=1319784332&sr=1-1-catcorr
If you're worried about the bioballs, take 'em out!  This is a complete wet dry, brand new, pieced together from several wet drys our club had on hand.  The only thing it does not have is a return pump (was probably never sold with one, and is not drilled, so would require a submersible pump).  The dimensions are 20" X 20" (16" high without the skimmer cup) X 8".  I have even water-tested this one as shown in the pictures.  The only flaw with this one is a crack in the internal protien skimmer's tube...it is 100% cosmetic only.
#3 Likely BRAND NEW - Full Blown Wet Dry + Skimmer Box + Protein Skimmer - Aqua Clear Aquatics Pro Series 75 Filtration System
- Missing Components - $100
Less in price by the actual missing component costs, PLUS further discounted to account for the headache of tracking things down

The same as the above, although I have not water tested it.  It is missing the Rio 600 rejuvenating venturi pump that drives the protein skimmer - http://www.marinedepot.com/Taam_Rio_RVT_(rejuvenating_venturi)_Powerhead_Pump_Fixed_Flow_Aquarium_Powerheads-TAAM_Via_Aqua-TA3191-FIPHFF-vi.html
It is also missing the U tube for the overflow/prefilter box ( http://www.drsfostersmith.com/product/prod_display.cfm?pcatid=21430 ).  
It also does not have the blue bonded filter pad for the drip plate.  And like the first one the skimmer body has a cosmetic crack in it.  Finally, I have not water tested this one...it appears fine (the other one did too, but since the origins of these filters were a bit unknown, I wanted to double check this one).  It is missing the clear vinyl return hose.  It has the ribbed drain hose, but I don't have it in the photos.
#4 - 1 1lb bag of Otohime C2
(mariculture fish food) is 840 to 1410 microns...that's .84 to 1.4 mm pellet size. 1 lb bag, retails for $27 + shipping - asking $20
Last edited by mpedersen on Sun Feb 19, 2012 2:15 am; edited 1 time in total

mpedersen

Lion Fish





Location

: Duluth, MN


Number of posts

: 399



BIG BUMP - anyone need any of this at the swap tomorrow! Email me!

mpedersen

Lion Fish





Location

: Duluth, MN


Number of posts

: 399





Similar topics
---
Permissions in this forum:
You
cannot
reply to topics in this forum